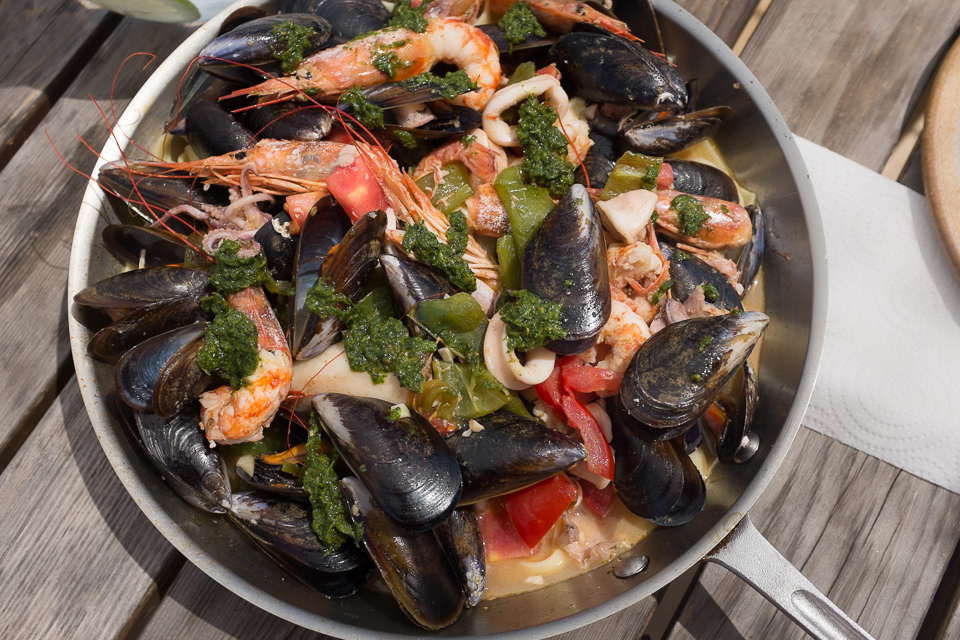 Summertime and the living is easy…and you definitely don't want to spend hours in the kitchen. This imperessive Ottolenghi seafood dish is really effortless yet tastes just as good as it looks – maybe even better! I think it is the perfect summer meal. Close your eyes, breathe it in, and let yourself be transported to the shores of a sun drenched beach. All the flavours of the sea are there.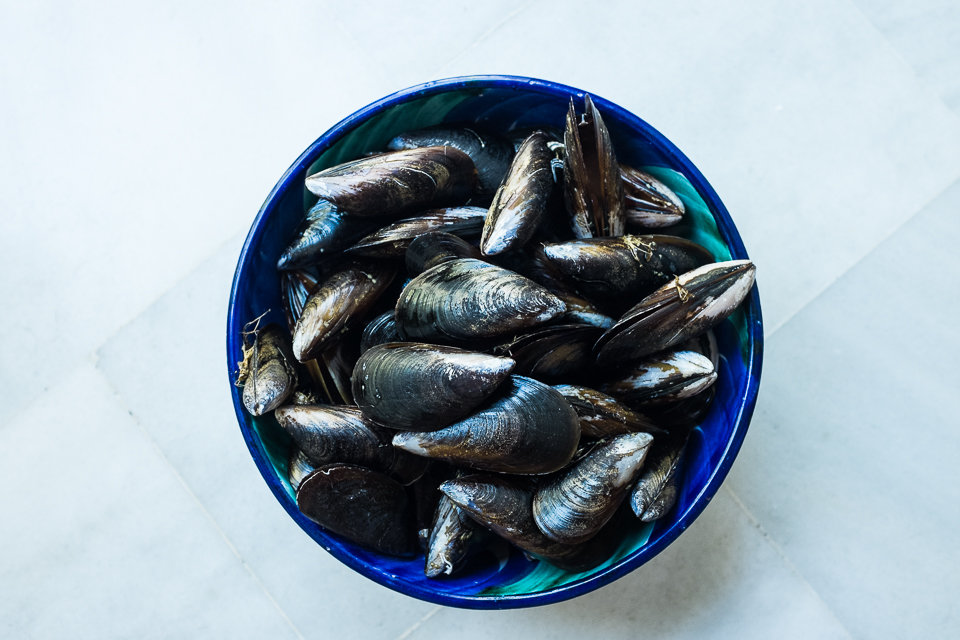 The final cooking stage and assembling of this dish takes less than 10 mins – 6 for the pasta and 3 or 4 for the seafood. If you clean your seafood, prepare the green harissa, and broil the peppers in advance, the rest is a breeze. A sea breeze!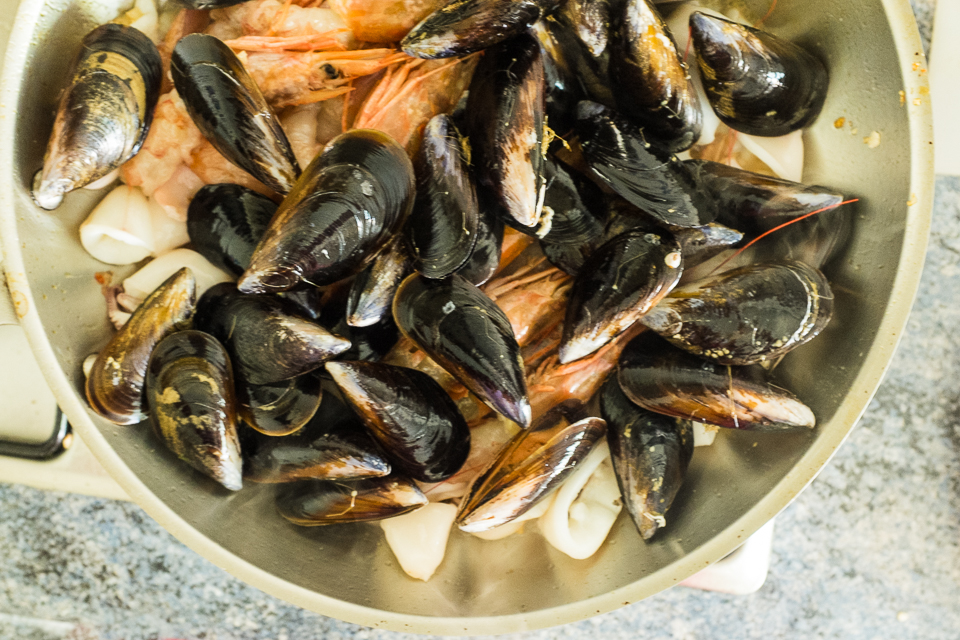 The green harissa is something I have blogged about before – though maybe under a different name with slightly different proportions – *chermoula or schug. Any of these versions will work. I try to have little pots of things like this in my fridge all the time because they add so much to so many different meals and yet take no time at all to make.
Fresh seafood with pasta and green harissa
Ingredients
serves 4-6
6 pointy peppers, or 2 normal green peppers
500g dry fettuccine or tagliatelle
About 3 tbsp olive oil
25g butter
1 red chilli, finely diced
3-4 garlic cloves, crushed
4 squid tubes, cut into 1/2cm rings (300g net)
500g mussels, beards removed (Discard any that are open and don't want to close_
360g large prawns, peeled, de-veined but with the head and tail left on
4 tomatoes, quartered, seeds discarded and diced into 1cm pieces
Parsley, roughly chopped
4 to 6 lemon wedges
Salt and black pepper
Green Harissa* (see above)
2 green chilies, roughly chopped
Handful of cilantro (coriander leaves)
Half handful of flat leaf parsley
1 tsp ground coriander
I tsp ground cumin
1/2 tsp crushed cardamom seeds
zest of lemon
1/4 tsp caster sugar
olive oil
salt
Method
Charbroil the green peppers. You can do this in a hot frying pan with olive oil, or under the grill. When the skins char, leave them to cool then peel.
Make the green harissa. Simply whizz up the ingredients with a handheld blender till it looks like pesto.
Once you are ready to cook, boil a pan of salted water, add the pasta and cook for the required time till al dente- probably 6-7 minutes. If it's ready before the seafood, rinse, add a little olive oil and set aside.
Meanwhile, take a large heavy bottomed skillet which has a lid and heat the olive oil and butter. Add the crushed garlic and red chilli. Cook for a few minutes but don't let it burn. Once it starts changing colour add a few tablespoons of water to cut the heat then throw in the seafood, lower the heat and cover. The seafood itself, especially the mussels, will release a lot of liquid – and flavour – for it all to cook in. After about 3 minutes, the mussels will open, the prawns will be pink and be firm to the touch and the squid will be cooked.
Turn off the heat. Stir in the chopped peppers, parsley, and tomato. Add another few drizzles of olive oil, salt and pepper and mix.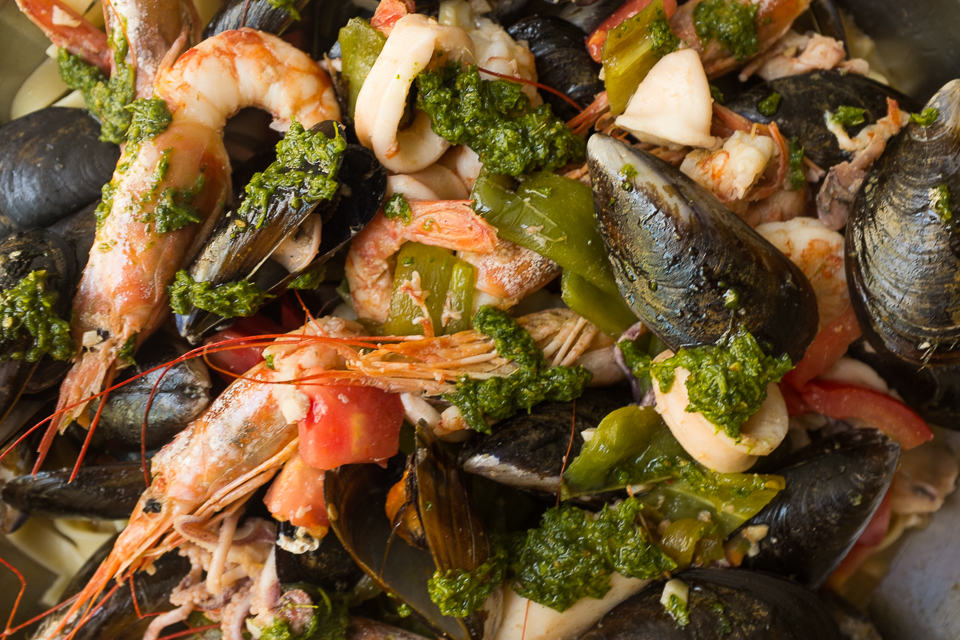 Put the pasta onto a serving dish, pour the seafood and sauce on top and mix. Drizzle the green harrisa over all and add lemon wedges
Serve immediately – unless of course you can't resist the temptation to take some photos first!